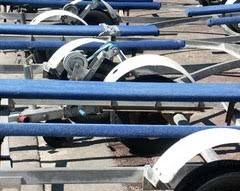 Neglecting even the most basic boat trailer repair and maintenance tasks can lead to malfunctions and potentially disastrous accidents. The harsh conditions of trailer use, including repeated submersion in water followed by long periods of inactivity and substandard storage conditions, can take an immense toll on components, resulting in everything from electrical issues to rusted framing and an assortment of compromised parts, threatening the pride and joy your trailer is trusted to haul.
Don't Sink Your Investment
Ainsworth can handle anything that ails your boat, jet ski, or personal watercraft hauler, from routine maintenance to mechanical, structural and cosmetic repairs, including…
Drum and disc brake maintenance and repair
Axle repair and replacement
Hub and bearing repacking, repair, and replacement
Leaf spring, coil, and other suspension issues
Trailer lighting and wiring
Structural and cosmetic repairs to fenders, floors or frames
Bunk and bow guide repair or replacement
Roller issues
Issues with tow hitches and equipment (couplers, balls, locks, safety chains, winches, straps)
Wiring issues
Welding needs
At Ainsworth, Your Boat Trailer Repair is Priority #1
Unlike most boat shops, who are angling for your boat maintenance; we focus solely on trailer repair, and only the trailer. Trailers are all that we fix, and we're the best in the business at what we do. Our first class technicians, skilled in multiple aspects of trailer repair, can handle any type of boat, jet ski, or personal watercraft trailer repair or modification, fixing things right the first time, every time. No job is too small!
OEM-Quality Repairs
Our expertly staffed, state-of-the-art facilities featuring multiple express lanes get you in, handled, and out the door in no time. In fact, in just an hour, Ainsworth's trained mechanics can inspect your boat trailer's main components, ensuring your trailer won't let you down when you need it most.
Emergency Service
Trailer left you and your boat up a creek without a paddle? Call us from wherever you've broken down, and we'll rescue you from your roadside location, repairing your hauler to see it safely returned to the road (and the water) with the highest level of care. Worried about cost? We pride ourselves at some of the most affordable pricing in the biz, routinely besting competitors.
Spend Less Time in the Shop, and More in the Water
Come experience why residents of Colorado and beyond have been seeking our service since 1998. Ensure your trailer is road and boat worthy. Contact Ainsworth Trailer Repair and schedule your free maintenance and repair estimate today.