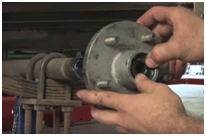 Improve Safety with Timely Trailer Brake Repair & Maintenance
Timely trailer brake repair is essential to the longevity and safety of any size trailer. Don't wait until problems occur, prevent them with regular inspection and maintenance, ensuring brakes are in top working order with the help of Ainsworth Trailer Repair.
All Travel Takes its Toll
Heavy loads, bumpy roads, and steep hills all take a toll on tow vehicles and trailer brakes, affecting braking stability and increasing the risk of brake-related incidents, such as longer braking distances. To reduce the risk of downtime and potential accidents and injuries, timely maintenance and repair are key.
Do You Know What State Your Trailer Brakes Are In?
As with any vehicle, trailer brakes require routine maintenance and repair. Daily wear-and-tear, dirt and debris and corrosion can all take their toll, especially on Colorado's heavily salted and de-iced roadways. If you drive a tractor trailer frequently or haven't had your utility trailer brakes checked after more than a couple of seasons of use, you could be flirting with disaster.
Confirm Safe, Proper Brake Operation with the Help of Ainsworth Trailer Repair
Trailer brakes can be working fine on one trip and completely useless the next. Whether you're using drum, electric, or surge brakes, our trailer repair professionals have you covered. At Ainsworth, we treat every trailer as if it belongs to a family member, taking the time and care to ensure proper brake function and top-quality maintenance and repairs. That's why owner-operators, fleet supervisors and single trailer owners go out of their way to entrust their trailers to our dependable and knowledgeable hands.
Just some of the brake-related issues Ainsworth Trailer Repair diagnoses and fixes on a weekly basis:
Drum/shoe, wheel cylinder, and return spring repair or replacement
Disc brake pad and rotor replacement
Wheel bearing re-packing and adjustments
Caliper repair or replacement
Improper fluid levels
Rusty or contaminated fluid
Leaky/cracked hydraulic hoses, fittings, and lines
Master and slave cylinder leaks or failures
Brake setting adjustments for load weight, road surface variations, and more
Brake magnet issues
Vehicle controller issues
EBS diagnostics concerns
Wiring & grounding issues
Fuse & connection incompatibility
Even signal lights
Annoying brake noise? From the simple to the serious, the professionals at Ainsworth have the trailer brake repair experience necessary to get you back on the road fast. Ensure driver, equipment, and cargo safety – contact us and schedule a full brake inspection today!